Apple Wants to Turn the iPad into an Universal Textbook: "
With its Textbook initiative as well as the iBook 2 and its associated iBook Authoring apps, Apple wants to turn the iPad into the 21st century Textbook for education, replacing all books and manuals in school bags by an iPad. If such transition to an electronic and mobile library for students is already been in use in many countries, universities and colleges, the new system from Apple aims to make it easier and unified.
The new version of iBook 2 aims to make reading on the iPad easier, while adding the ability to get access to multimedia contents (video or animation), something impossible in a classic paper-based book.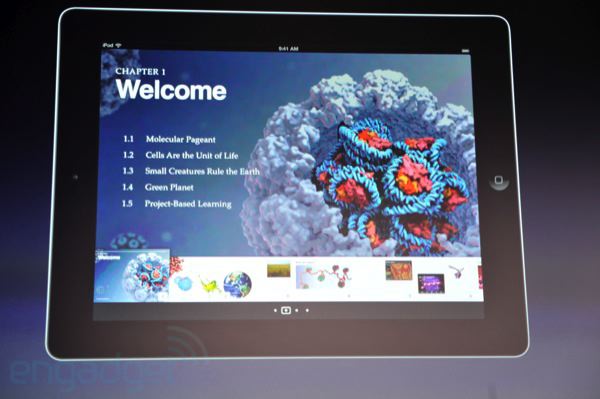 Of course, with this initiative, Apple wants to make it easier for education programs and representatives to create contents, courses and lectures on the iPad, making it possible for Apple to sell more units of its tablet. This is probably to prepare the launch of the forthcoming iPad 3, and if the rumor indicating that the iPad 2 will remain in the catalog with a much lower price is true, it could position the iPad 2 as the perfect school-dedicated tablet. So teachers will have tools t ocreate their own contents, students will have unlimited access to their purchased books (including updates). The new way for education? Maybe, for sure I am goinf to look at some coruses from Stanford and Yale...
It remains to be seen how the education institutions will manage such a large number of tablets, and especially stolen or lost ones... but if everybody gets one, there might be no reason for stealing...
(Via HardMac.com.)